In February 16, 2017, the China Petroleum and Chemical Industry Federation issued a press conference on the economic operation situation of China's petroleum and chemical industry, releasing the economic operation of petroleum and chemical industry in 2016 and the 2017 forecast report. The data show that in 2016, the output of Industrial Enterprises above Designated Size in the paint industry reached 18 million 997 thousand and 800 tons, and the main business income reached 435 billion 449 million yuan.
Looking at the historical data (Fig. 1, Fig. 2), the output and sales revenue of China's coatings industry has always been growing for 11 years from 2006 to 2016, and reached the highest level in 2016 years. At the same time, the growth rate showed a downward trend. In 2016, the industry revenue growth rate was only 4.1%, which was significantly lower than the overall growth rate of GDP 6.7% in the whole year.
We believe that the main factors affecting the scale and growth of the coatings industry are macroeconomic environment and industry statistical caliber. The former is an objective factor and the latter is a subjective factor.
Objective factors: macroeconomic environment
As a supporting industry closely related to infrastructure construction and industrial product manufacturing, the rise and fall of paint manufacturing industry is closely related to the development of national economy. The downstream applications of coatings involve many industries, such as construction, furniture, automobile, machinery, electronics and so on. The development of downstream industries has a direct impact on the economic performance of the coatings industry.
From the growth rate comparison (Figure 3), the paint industry revenue growth and the overall growth rate of GDP basically maintained the same pace, but the paint industry revenue growth significantly fluctuated. In particular, the rate of decline in paint revenue growth after 2013 is obviously faster than that of the GPD growth rate.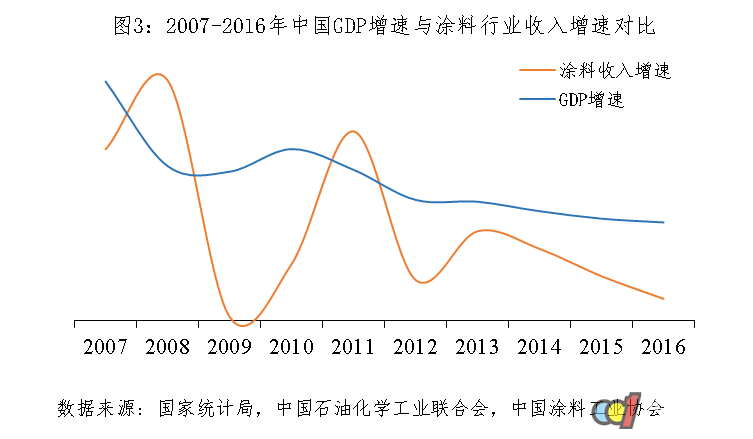 Subjective factors: industry statistical caliber
As the statistics are derived from the "coating enterprises", the change of statistical caliber is also the main factor affecting the scale and growth of the coatings industry. With the upgrading of the influence of trade associations, the coverage of statistics is also gradually expanding, which makes statistical caliber constantly enlarge (that is, the number of enterprises incorporated into Statistics) increases year by year, thus affecting the statistical data (Fig. 4).